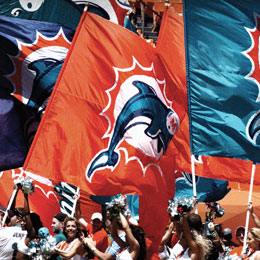 Home of the Miami Dolphins, this 75,000 seat, state-of-the-art, open air facility hosts numerous sporting events, as well as concerts and special events, throughout the year. The Sun Life Stadium was previously known as Land Shark Stadium, Dolphin Stadium, Pro Player Stadium, and Joe Robbie Stadium.
The stadium is known for its luxurious Club Level amenities with private VIP reception entrances, and is a favorite place for celebrity-spotting. If you go, make sure to visit the mega-merchandise store on the AT&T Grand Plaza, featuring the latest MLB and NFL merchandise. It's the perfect place to catch a football game or concert.
It is easy to reach the Sun Life Stadium from Comfort Inn & Suites Miami International Airport, it's located just a quick 14 mile drive up I-95 into the North Miami area.